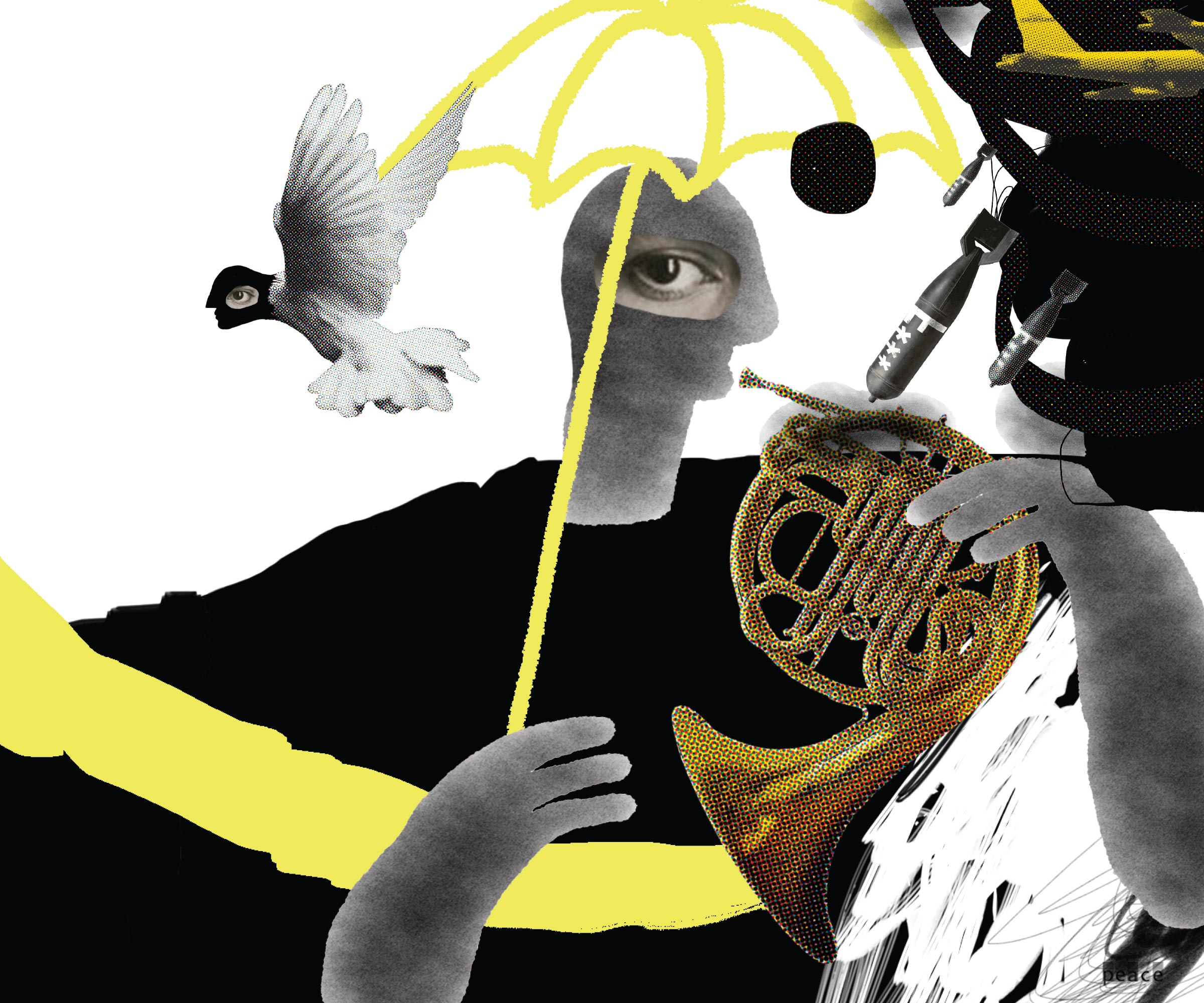 © 2017. Cover page illustration by Dana Kavelina
---
What experiences are included in the guide?
For about 10 years, our two organizations (Peace Dialogue in Armenia and OWEN in Germany) have been working together with partners from Armenia, Azerbaijan, Georgia, the Russian Federation, and Ukraine towards supporting the civil society actors' efforts for peace. For many years, we have been asking ourselves the same questions: how to share our dreams with those who were told not to dream? How to talk about the violence with those who seem to accept it as a way to resolve the conflict? By working with people and communities affected by conflicts, we have found tools that help in articulating the issues that we see in our surroundings. We have been looking for methodologies that allow us to speak up about these issues in a way that will be acceptable and understandable for people who do not necessarily know what conflict is and why one should transform it, or what militarization is and why it is dangerous to live in a militarized country.
We decided to invite people from various conflict affected countries in the post-Soviet area so we could learn from each other, support each other, and jointly develop approaches that will best work in our specific contexts. Therefore; back in 2014, around 12 people from different parts of Russia, Ukraine, Azerbaijan, Armenia, Georgia and Germany gathered in Tbilisi. Most of them knew each other from common activities in peace building prior to attending.
People from the Russian Federation (coming from South Russia, Chechnya and St. Petersburg) said that they feel no safe space anymore to talk and think critically about issues that they are concerned about. Propaganda has become very strong and governments or other influential groups use propaganda to keep their power at any cost. Negative energy accumulated in the society due to social injustice is directed towards external enemies. Hatred and fear in their respective societies have deepened.
Others (from Georgia, Armenia and Azerbaijan) said that the authorities concentrate people's attention on the security issues; thereby, uniting the society against an external enemy (real or invented) while justifying their own mistakes and shortcomings by citing numerous internal problems with war and plots of the enemy.
Someone that came from Ukraine was still shocked at what has happened recently (2014) in her country. Listening to the others, she realized that the problems Ukraine faces are not new. People from the Russian Federation and from the countries in the South Caucasus have had similar experiences with war and conflict; with enemy images and political interests being more important than the well-being of the people.
One thing that the participants have in common is that they worked with different kinds of art in their societies and local communities. Some of them have had experiences with theatre, others with films, while still others used graphic stories and comics. With the use of art, they created a space for learning from each other and opened an opportunity to look at things from different perspectives.
After thorough discussions and analysis of this regional panorama, the idea of creating a new network was born. The group decided that it will be important to have a platform for experience exchange, mutual support, and joint learning that will make stronger their respective peace-building efforts. They believe that through art they can overcome their marginalization as peace activists in their respective societies and make their critical thoughts and their dreams of a better world understandable and attractive to others. They dream of overcoming the culture of violence and to promote peace, to bring people together, and to open the space for a dialogue.
This appeared to be the start of the ARENA network; which accumulated the best practices, experiences, and lessons learned by prominent peace-building and human rights groups and individuals from various post-Soviet countries (such as Union of Don Women from Novocherkassk; SINTEM from Grozny; the theatrical project "Vmeste" from St. Petersburg, Theatre for Dialogue; from Kiyv, Peace Dialogue from Vandzor, and OWEN from Berlin). In later stages of the project, more groups joined the network and contributed to the development of project ARENA: Community Theatre and Public Art.
What to expect from this guide?
In 2015, the first activities of the project ARENA started. People that have been involved in ARENA not only want to stop the direct violence of war and military action, they also want to deal with the causes and consequences of war that they see inside their respective communities. This includes economic problems, discrimination, and marginalization of social groups as well as deeper causes of conflict rooted in culture and history.
Often different aspects of culture can be used to legitimize violence and war. ARENA activists use culture to engage more people, to question violence, and to provide space for alternative thinking and actions.
This guide presents examples of using public art and community theatre by the ARENA community members aimed at supporting peace-building processes in their respective communities and countries. The following are the three pillars of using art by ARENA in conflict-involved or post-conflict societies:
Questioning militarism and opening space for alternative thinking;
Transforming relationships: dealing with images, prejudices, and stereotypes of "the other" and;
Empowering people and trying out possibilities for action.
The chosen examples show a broad range of approaches and illustrate what opportunities art can offer in peace-building. It must be noted not all examples were born and realized inside ARENA. Rather, ARENA offered a space for reflection and analysis of the experiences with different kinds of art in the community-based peace-building network.
Who are the intended users of this methodological guide?
This guide is based on the systematization and analysis of experiences of the ARENA network members through the use of different artistic means in their community-based, peace-building work within their respective conflict-affected societies. The publication was compiled primarily to assist the staff in the organisations that work with peace-building efforts. It is also envisioned as a resource for anyone interested in community-based, peace activism. The methodological guide intends to encourage the reader to apply some of their own initiative and adapt the examples to the needs of their own communities and within their local context.
Please download the Methodological Guide under the following link. (Methodological Guide on Creative Peace Building. PDF 21.7 Mb).
Here you can download also the Russian version of the Methodological Guide. (PDF, 22 Mb)
---
© 2017. This publication was prepared in the framework of the project "Arena: Community Theatre and Public Art" of Peace Dialogue NGO.

Project's German Partner – OWEN – Mobile Akademie für Geschlechterdemokratie und Friedensförderung e.V.

The project "Arena: Community Theater and Public Art" is supported by the zivik (Civil Conflict Resolution) programme of the Institute for Foreign Cultural Relations (ifa) with means from the German Federal Foreign Office.