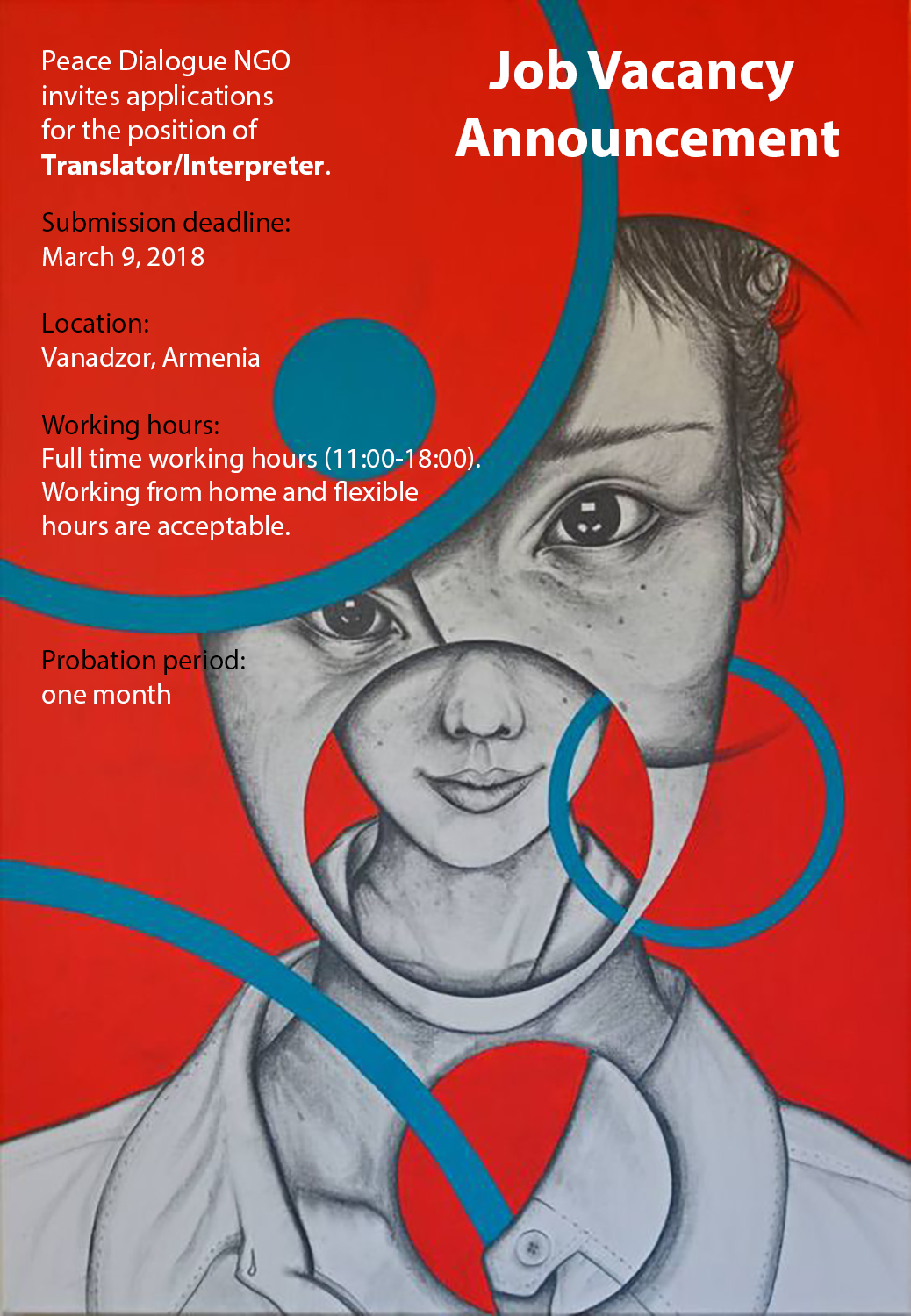 Peace Dialogue NGO invites applications for the position of Translator/Interpreter.
Submission deadline: March 9, 2018
Location: Vanadzor, Armenia
Working hours: Full time working hours (11:00-18:00). Working from home and flexible hours are acceptable.
Probation period: one month
Purpose of the Job: Edit and translate Peace Dialogue NGO's documents and website content in English. Provide interpretation during trainings, workshops, and other special events of the organization.
Duties and responsibilities:
Produce accurate translation of all the articles, reports and documents of the organization from English to Armenian and vice versa.
Ensure English language correspondence with international partners of the organization.
Translate subtitles for films and other video produced by the organization.
Ensure accurate, quick, and clear interpretation.
Provide consecutive translation during trainings, workshops or events.
The translator/interpreter may assist the organization's staff during various events and workshops abroad.
Qualifications:
At least Bachelor's Degree in Linguistics/Translation.
Fluency in Armenian and English. Good knowledge of Russian is an asset.
Knowledge of legal terminology. The experience of translating materials on human rights, conflict resolution, and peacebuilding will be viewed as an advantage.
Experience and ability in working in multinational and multicultural settings.
Strong communication and interpersonal skills.
Teamwork skills.
Computer and typing skills.
Ability to complete the tasks within the required deadlines.
Cultural and gender sensitivity.
To apply for this opportunity, please fill out the Application Form (Microsoft Word, 82 kb) and send it, along with your CV, to mailbox@peacedialogue.am or bring them to our office at 40 apt., 12 Miasnikyan str. Vanadzor, Armenia 2002. The deadline for submissions is March 9, 2018.
Phone: +374 (322) 21340
Cell: +374 (55) 820 632
Please note that only susccesful candidates will be contacted.