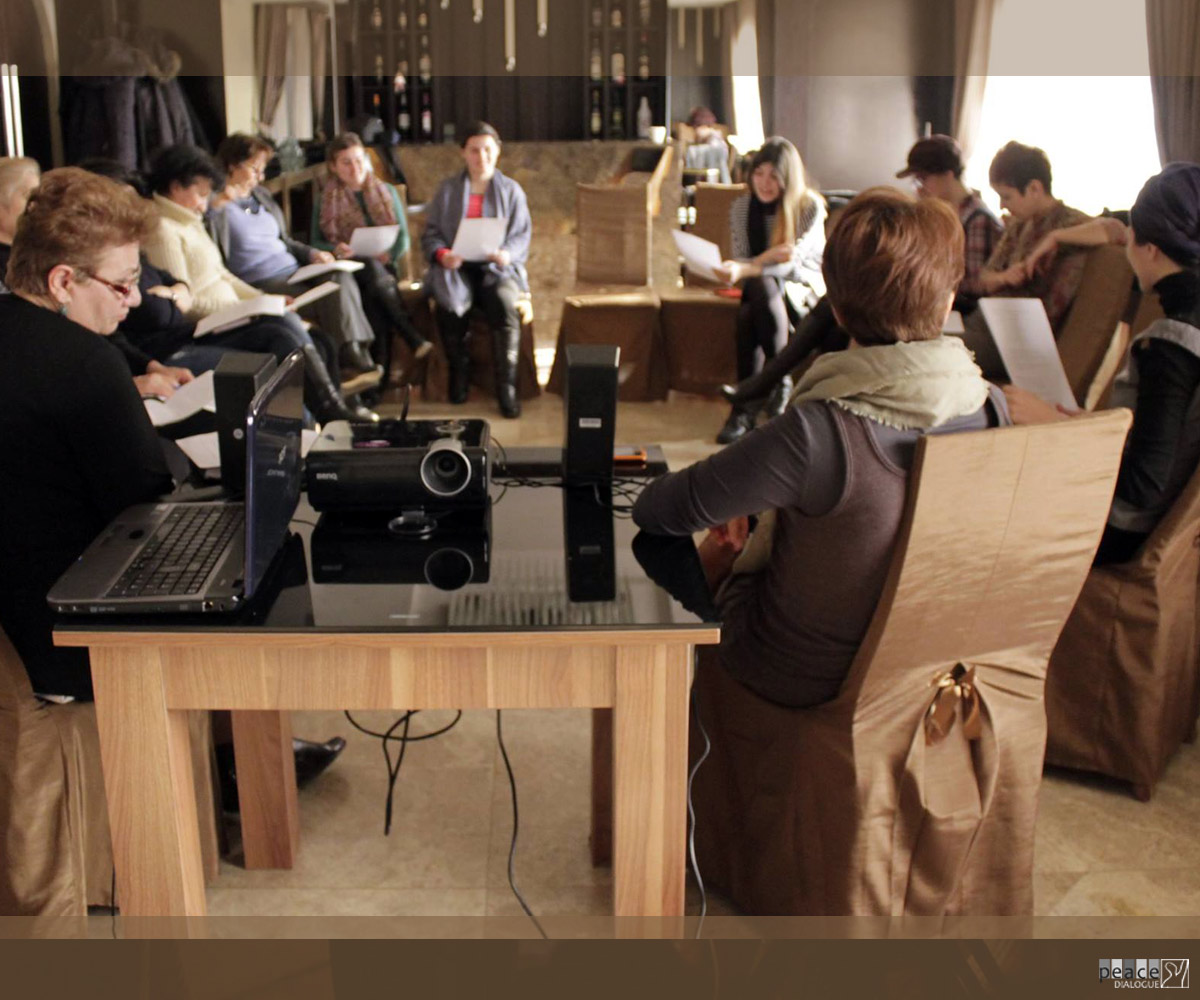 Photo: © 2014, Peace Dialogue, Armine Zakaryan, "Women's Agency of Peacemaking" Workshop in Yerevan
---
During the second half of 2014 Peace Dialogue had already established the groundwork for helping young people build peace in the Caucasus, so along with its partner CMI it started the planning and preparation process of a joint project called "Women's Peace Agency Project." The project will draw on CMI's extensive experience in designing and implementing multi-stakeholder dialogue processes in conflict prevention and post-violence situations. The project aims to activate and involve women in conflict-areas of the Caucasus region in peace building and civil processes by creating a multi-layered dialogue between the conflict-affected women, civil society and decision makers by creating a core group of women activists. A major focus of the project will be to create a safe space for personal empowerment and the open exchange of ideas. One important objective is to expand, empower and improve the effectiveness of women actors in the region to become active agents of change and influencers in their communities instead of acting as "spoilers". In the process we will strive to facilitate a more critical understanding of history and expand their understanding of the diversity of narratives and the role they play in conflict and peace building in the region. One significant goal is to generate additional connections between Track 1 key actors to informally engage in a dialogue with women actors in the region.
A core theme of the program is to include more of those women who are often referred to as "spoilers". They are the ones who are usually left out of civil society and community level processes. The program was developed around CMI's core value of the inclusion and engagement of women as active agents of positive social change and political influencers in their communities and society. As such, the focus of the program is on women's representation in society, not as an end in itself, but as a specific entry points to the peace process in the region with the belief that this will expand its outreach, and improve sustainability. The logic of this project is built upon a unique combination of methodologies working together to create an innovative dialogue process with CMI's experience in developing inclusive processes of including marginalized groups. Four meetings have been held so far in different regions of Armenia between November and December, 2014. The focus of these preliminary workshops was to gauge the level of involvement we could expect. Preliminary results of these meetings showed that there are active women who would be involved in an initiative related to their sphere of interest and they are open to help and engage with others. Many of the women who participated in the workshop said they would be glad to participate in this project. They are willing and able to critically analyze their personal situation and even proposed discussing some topics, which we felt were taboo. The roll out of the project will be planned based on the interests and issues discussed in these planning workshops. It turned out that despite the stereotypes among many in society that little can be changed; there are women who not only believe but are willing to take steps to achieve that change even at the cost of damaging relations with community leaders.

The project "WOMEN'S PEACE AGENCY" is implemented with the support from the Finish organisation Crisis Management Initiative (CMI).